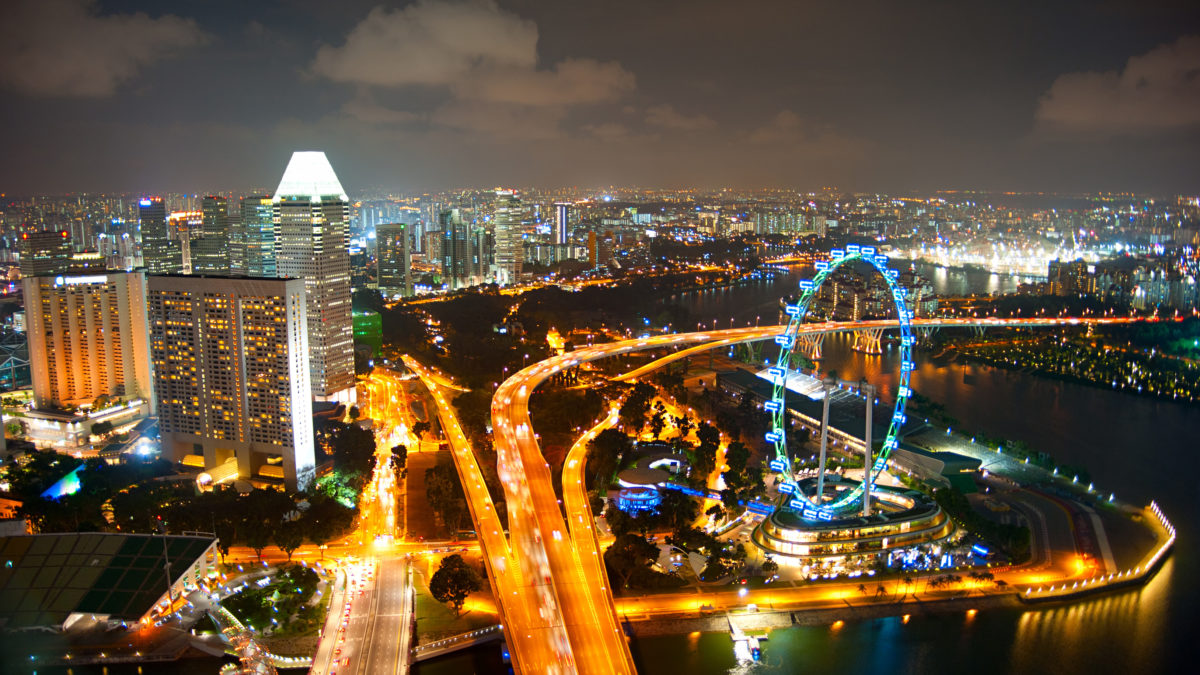 In 2014, Singapore has launched its Smart Mobility 2030 program, dedicated to "moving towards a more connected and interactive land transport community". Three years later, many initiatives have been rolled out across the Lion City. Here is a summary of this journey towards e-transport.
The Institute for Research and Technology SystemX@Singapore, which as recently established itself in Singapore, is contributing to this effort by joining the CETRAN (Centre of Excellence for Testing & Research of AVs at NTU) project, aimed at testing and certifying the autonomous vehicles.
Here is the problem statement to be solved: M. Tan lives in an island of 720 km², with a population of 5,6 million inhabitants, meaning a density close to 8,000 people/km², third most dense country in the world after Macau and Monaco. In the meantime, M. Tan and his fellow-citizens have built a 50 years old fast-growing economy (also 3d in the world by GDP/capita), that is likely to attract more and more people in the near future. Among these people are the elderly that will represent a bigger part of the whole population[1]. Altogether it means a confined land, packed with people, many of them with challenging mobility capacities, but most of them, including M. Tan, willing to take advantage of the new technologies enabling faster, easier and more convenient mobility. This is the problem statement Singapore has to face and solve in the coming years, so as many growing megacities. As part of the solution is the Smart Mobility 2030 strategic plan, issued in 2014 by the Singaporean government, providing the multiple keyplayers of this challenge with a roadmap.
Smart Mobility 2030 Strategic Plan
The so-called "Intelligent Transport System (ITS)" encompasses a wide range of solutions such as road networks optimisation, new public transport systems, incident management, as well as safety improvement. This has already led to the launch of the world's first fully automated underground driverless Mass Rapid Transit line (MRT). E-payment with the Contactless e-Purse Application Standard (CePAS), the Electronic Road Pricing (ERP), or the Electronic Parking System (EPS) have also been instrumental in optimising people and vehicles' traffic, hence reducing congestion.
As for the future, connectivity and interactivity are keys to success. The travel experience will be composed of real-time information on-the-move, shared within the community, and beneficial for diverse groups of users including the elderly, the mobility-challenged, and the cyclists[2].
The Smart Mobility 2030 roadmap relies on three strategies and four focal areas: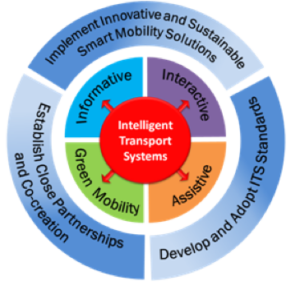 1st strategy: Implement innovative and sustainable smart mobility solutions
Cost-effective solutions for diverse transport users and use of big data analytics to facilitate travel planning and management
2d strategy: Develop and adopt ITS standards
Need for accurate, shared, reliable, transport data, together with homogenised standards and protocols for ensuring inter-operability.
3d strategy: Establish close partnerships and co-creation
Foster public and private collaborations. Leverage on each other's expertise and skills.
To implement these strategies are the four focal areas:
Informative: Information on-the-go will become a "must have", for a more mobile and more connected population. Data collection will rely on location systems (Global Navigation Satellite Systems), high definition video capture, as well as other means of sensor collection. Sensor deployment will have to minimize infrastructure impact while maximising data collection. Smart processing and algorithms will be key in facilitating the downstream data analysis. This huge amount of data will require appropriate technologies to manage big data and clear visualisation tools. Formats, interfaces, and protocols, will need to be harmonised, shared, and yet secured, as far as privacy and anonymity is concerned.
Interactive: Intelligent fleet management systems will become keys in many sectors as public buses (bus arrival times and load information), car-sharing on demand, smart logistics (faster goods delivery). Sharing of transport information between agencies, transport operators, emergencies, will lead to more effective and coordinated responses. Spatial and contextual information will be delivered to individuals and provide them with personalised content.
Assistive: In-vehicle on-board devices will provide warning information to drivers, thanks to for instance traffic light controls at traffic junctions. The development of V2V (Vehicle to Vehicle) and V2I (Vehicle to Infrastructure) technologies will also enable safety communication and reduce the number of accidents. These telematics applications should expand to dynamic routing, intelligent parking guidance, and real-time traffic news. A big part of this assistive future will rely on self-driving or autonomous vehicles. These driverless vehicles (cars, buses, trucks) will eliminate human errors, optimise road capacity, and lower carbon emissions. Nevertheless, in addition to technological issues, many regulatory obstacles will have to be overcome.
Green Mobility: Higher usage of public transport, "greener" vehicles (hybrid, electric), regenerative brakes in trains are examples of usages or technologies that reduce the impact on the environment. The development of new infrastructures for ITS equipment will require environmental-friendly conception, so as to minimize their own impact. Data centres use a lot of power and will require the optimisation of resource sharing through cloud computing or other solutions.
Smart mobility initiatives in Singapore
Today, in 2017, Singapore has rolled out many initiatives to address this 2030 agenda[3].
For example, smarter bus systems, thanks to the Common Fleet Management System (CFMS), enable operators to monitor the location and performance of their bus fleets, and actively work with their bus captains to adjust bus operations in real-time.
The Land and Transport Authority (LTA) is also developing a Fusion AnalyticS for public Transport Emergency Response (FASTER) system which will combine data from various sources, including fare-card, video and telecommunications systems, to perform analytics. It will enable LTA and the operators to visualise commuting patterns to improve transport planning, and it also triggers early alerts of crowd surges and transport incidents.
The next-generation Electronic Road Pricing System, which is based on Global Navigation Satellite System technology, will enable the collection of comprehensive, real-time, aggregated traffic data, and disseminate such directly to motorists, to enable them to better plan and optimise their travel routes.
The LTA has also been conducting trials of hybrid and electric buses. After promising first results, the objective is to run 50 hybrid and 60 electric buses, that is to say three bus services fully served by electric buses.
As part of Singapore's Electric Vehicle (EV) Phase 2 Test-bed, which aims to explore the viability of operating fleets of EVs for car-sharing and of electric taxis, LTA and the Economic Development Board (EDB) worked with HDT Singapore Taxis Pte Ltd to bring in Singapore's first fully-electric taxi fleet. HDT began operating its fully-electric taxi service in September 2016, and progressively deploys 100 e-taxis by mid-2017 as part of an eight-year trial.
LTA and EDB partnered BlueSG Pte Ltd to launch the BlueSG EV car-sharing programme, which will see 1,000 shared EVs deployed across all HDB towns by 2020, and the installation of 2,000 charging points island-wide. The first batch of 125 Bluecars and 250 charging points will be rolled out by the second half of 2017.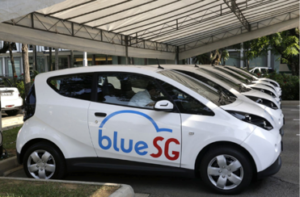 Lastly, a lot of efforts have been made in the field of autonomous vehicles. For about 2 years, many trials have started across the country. In September 2016, LTA doubled the length of the test routes within One-North from 6 to 12km, after AV trial participants showed their capabilities in navigating mixed traffic environments. Since then, the AV trial participants have demonstrated a readiness to advance their capabilities to more on-road scenarios in an expanded test area. In June 2017, new areas such as the National University of Singapore (NUS), Singapore Science Park 1 and 2, Dover and Buena Vista, have been opened to AVs trials. These areas present a larger test bed, and will add another 55km to the existing AV trial routes.
Autonomous trials in Singapore in 2017[4]
A*STAR's Institute for Infocomm Research (I2R): first self-driving vehicle to be approved for public road testing at One-North since July 2015.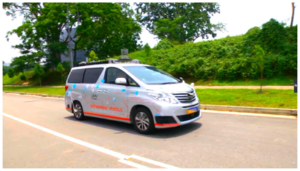 National University of Singapore (NUS) and the Singapore-MIT Alliance for Research and Technology (SMART): testing a fleet of self-driving golf-buggies. A retrofitted electric passenger car was the second vehicle to be approved for more complex testing on public roads. A prototype of a four-wheel self-driving Personal Mobility Device was also unveiled for public trial in November 2016.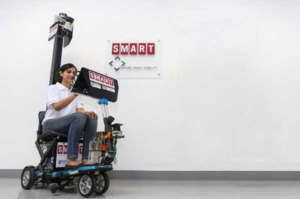 Delphi automotive and nuTonomy: the first private company – and the third applicant – to obtain approval for public road testing at One-North as of April 2016. Aim to launch a commercial autonomous mobility-on-demand service.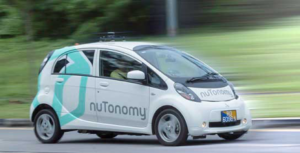 Gardens by the Bay, French company EasyMile in collaboration with ST Engineering: the EasyMile driverless shuttle went for public trial in December 2015 and is now in service at Gardens by the Bay. On 22 June 2016, Gardens by the Bay launched the Auto Rider for public rides.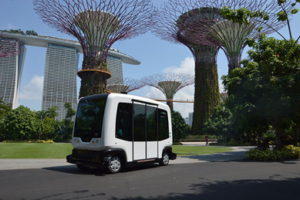 French company Navy, in collaboration with Energy Research Institute (ERI@N) at Nanyang Technological University (NTU): self-driving golf cart and electric shuttle around NTU can fetch up to 8 people and travel at a maximum speed of 20 km/h. These are part of NTU's plans to eventually trial two full-sized autonomous bus in its campus in 2018.

LTA and ST Kinetics: development of a 40-seater electric autonomous bus prototype.
MOT (Ministry of Transports) and PSA Corporation collaboration with Scania and Toyota: truck platooning trials over a three-year period from January 2017 to December 2019, the collaboration will enable heavy vehicles to move in leader-follower formation, as well as to fully automate the processes for precise docking and undocking of cargo.
Katoen Natie and VDL: 12 driverless trucks will go on trial on Jurong Island from September 2017. The trucks will be retrofitted with autonomous systems which will communicate with transponders installed in the road.
In order to allow these autonomous vehicles to join the road traffic, government authorities like LTA will need to assess, test, and certify them so as to ensure the maximum of safety and convenience for road users. This is the scope of the Centre of Excellence for Testing & Research of AVs at NTU, namely the CETRAN project.
What is CETRAN?
The Land Transport Authority (LTA) and JTC (Jurong Town Corporation), in partnership with the Nanyang Technological University (NTU), launched CETRAN, at CleanTech Park on August 2016. On November 22d, 2017 the CETRAN circuit will be officially opened by the Singaporean Minister of Transport, M. Khaw Boon Wan.
JTC
CETRAN will spearhead the development of testing requirements for SDVs, for which testing will be carried out at the 1.8-ha CETRAN Test Circuit, which is jointly developed by LTA and JTC to provide industry players with a simulated road environment for the testing AVs prior to their deployment on public roads.
In line with LTA strategy to establish public and private collaborations, NTU is partnering with four foreign entities to develop the CETRAN project. BMW, TNO, TUV-SUD, and SystemX will be each responsible for one workpackage of the project.
The workpackage managed by SystemX will focus on digital modelling & simulation for safety & digital security, applied to autonomous transport. This is the first project of SystemX in Singapore, willing to develop others in the coming months, in the fields of autonomous transports, agile industry, smart territories, or internet of trust.
[1] http://www.singstat.gov.sg/statistics/visualising-data/storyboards/population-trends
[2] https://www.lta.gov.sg/content/dam/ltaweb/corp/RoadsMotoring/files/SmartMobility2030.pdf
[3] https://www.lta.gov.sg/apps/news/page.aspx?c=2&id=e09102cd-acd5-469e-8234-777b68e4e18a
[4] https://www.smartnation.sg/initiatives/Mobility/self-driving-vehicles-sdvs-future-of-mobility-in-singapore
Retour à l'accueil
Tags In
François-Xavier Lannuzel
François-Xavier Lannuzel est ingénieur-docteur en chimie des matériaux. Diplômé de l'Ecole Nationale Supérieure de Chimie de Rennes, il a effectué son doctorat à l'Institut des matériaux CNRS Jean Rouxel de Nantes. Il a ensuite travaillé en tant que chef de projet R&D dans l'industrie, à l'interface entre laboratoires académiques et PME. De 2004 à 2011, il a dirigé le bureau de transfert de technologie puis le service de soutien à la recherche et au transfert de technologie de l'Université de Bretagne-Sud. De 2011 à 2015 il a dirigé le service de coopération scientifique et technologique de l'ambassade de France en Norvège, puis celui de Singapour de 2015 à 2017. Le 1er septembre 2017, il a pris la direction de l'antenne de SystemX à Singapour.